The yearly Swedish forest gig
My first and possibly only outdoor gig for the year is going to be this upcoming weekend. The flyer: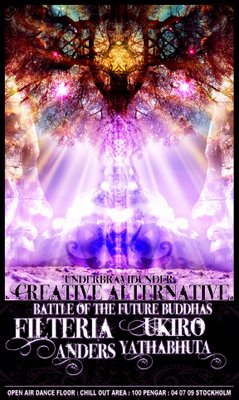 Pretty damn sweet lineup if you ask me! I'm playing 03:30 – 06:00, which means early dawn -> full sunlight. The music will go from dusk hypnoticism to orgasmic sun worship (as if Filteria doesn't provide enough sun worship =).
I will also play in the chillout, from 22:00-00:00 if all goes well. I will be playing Steve Roach music exclusively, hopefully getting him some new fans. Come early and enjoy 2 hours of initiation ritual to the most mesmerising ambient on the planet.
Anyone in the Stockholm area who'd like to come, let me know in the comments and I can hook you up with the info.